Content Marketing is the act of creating and sharing material to grow organic traffic and establish subject matter expertise for your brand. Businesses that use a content marketing strategy create many types of content, from blogs, videos, and ebooks to infographics, courses, and social media posts.
We've used this strategy for Paid Memberships Pro since day one—and it's been a great success.
We write troubleshooting guides for common support questions.
We write how-to articles for common presales queries.
We write solution-agnostic content for people building membership and subscription businesses in general.
We publish release notes and transparency reports.
To date, we've created:
935 blog posts which receive over 23k unique pageviews/month.
221 pages of documentation and general information which receive over 73k unique pageviews/month.
216 YouTube videos which receive about 10k views/month.
In contrast, SitewideSales.com doesn't have a blog.
I'm going to follow the success of the PMPro content strategy and launch a blog for SWS. My goal is to create a library of written content that demonstrates expertise on running sales for a WordPress site.
Generating ideas for new content can be challenging. With PMPro, we're writing for a product with an active sales funnel and loads of resources to pull from, like:
presales inquiries from our contact form
customer feedback, testimonials, and reviews
support tickets from premium members and via WordPress.org
our own experience running a membership site
competitor analysis and their content channels
social media DMs and YouTube video comments
With SWS, I don't have an active community of users helping me with idea gen, so this content strategy is based on intuition and competition.
Whether you are using intuition or customer research, the process below explains how I created a content plan for SWS.
How to Develop a Content Marketing Strategy
As part of my sabbatical prep, I established a content plan for Sitewide Sales. I now have a list of articles to write and videos to create.
Here's the process I used to create the list of article ideas for SWS:
I

did some basic keyword research using a combination of free and paid tools.

With those keywords, I used two other free tools to generate article topics/titles.
I put my article titles into a spreadsheet and deleted the ones that didn't make sense.
I chose 15 main topics as my content pillars and assigned every other topics to one of my main pillars.
Our team member Sam and I used an AI-powered content creator to generate article introductions and outlines.
Sam also searched Google and added links to the top 3-5 articles I can read for references.
Then, we made a Google doc for each article that included the intro and outline. I'll use these docs to write my post drafts.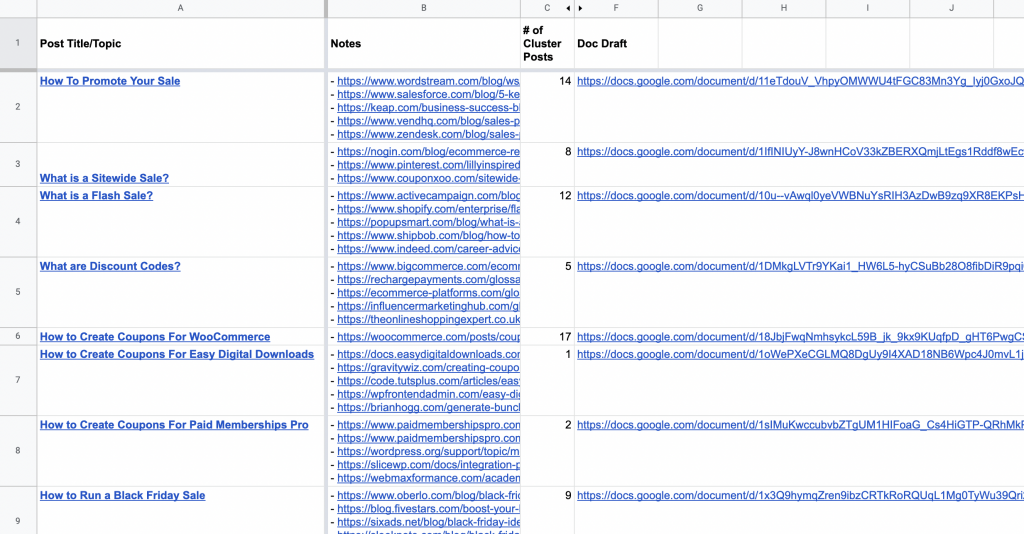 Here's a list of the tools that helped me create this content strategy and what they are used for.
AnswerThePublic is a "search listening tool". You input a keyword or phrase—the tool outputs instant, raw search insights: the exact phrases and questions people are using to search Google. With this data, you can create a blog post for your topic or keyword with the exact phrase most used by your target audience.
With AnswerThePublic, you get three basic searches per day. This was perfect for me, since I have a few weeks until my sabbatical begins. Plus, I leveraged a family member in Virginia to do some searches and send me the data.
I input a keyword, the tool gives me a huge dump of search phrases used or shown as a related search using my term.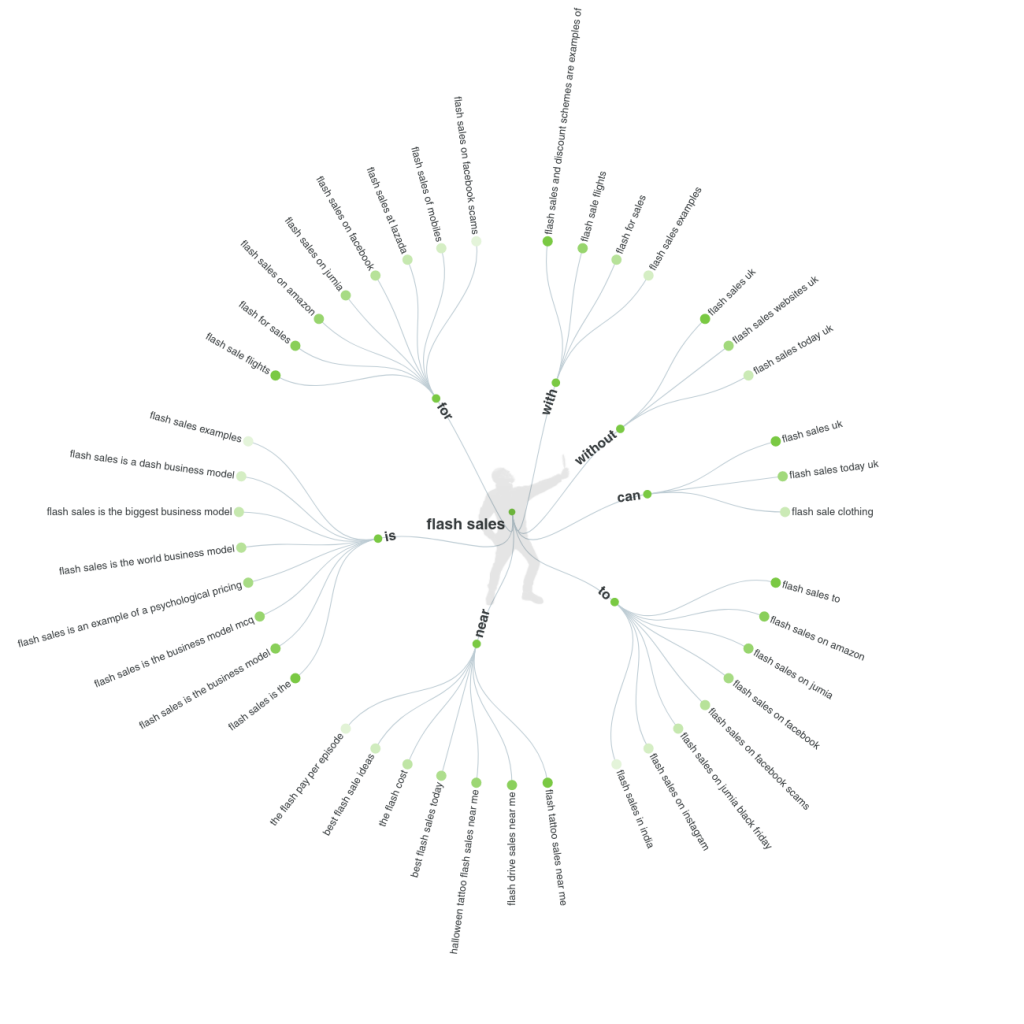 I repeated this process for all my keywords, including "sitewide sale", "flash sale", "woocommerce discount codes", "ebook sales", "wordpress sales", "discount on membership". While many of the results were garbage, I did have a good chunk that I think are useful to write content for.
AlsoAsked is another tool to gather popular search phrases for your keyword. Similar to ATP, this tool offers three free searches per day. You input a keyword and the tool generates a graphic of the most popular complete phrases for that term. Those phrases can be used as exact match article titles. Brilliant.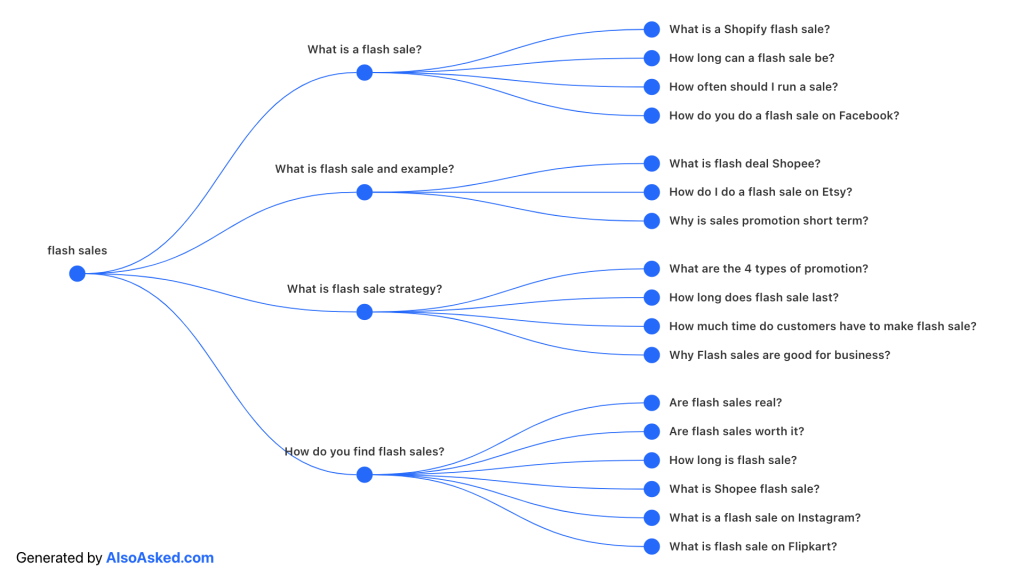 UberSuggest is a general SEO tool that helps you discover keywords, identify on-page SEO issues, analyze competitors, and track your site's search performance (including backlinks).
PMPro has a paid UberSuggest account, so I added a new project for SWS. After adding my project, connecting Google Analytics and Search Console, I immediately got a list of keywords I already rank for. I added these to my "tracked keywords" in the project.
Yes, I'm already ranking for these keywords. But what you already rank for is an even bigger opportunity over new content. Those the URLs you should optimize first.
I'm going to add the keywords for my content pillars now so that I can analyze the search traffic on those keywords and eventually my own site's performance as I create the content.
Reviews of UberSuggest and its creator Neil Patel are a mixed bag. For an SEO newbie like me, I don't have any major complaints about the tool. It's inexpensive, easy to setup, and intuitive.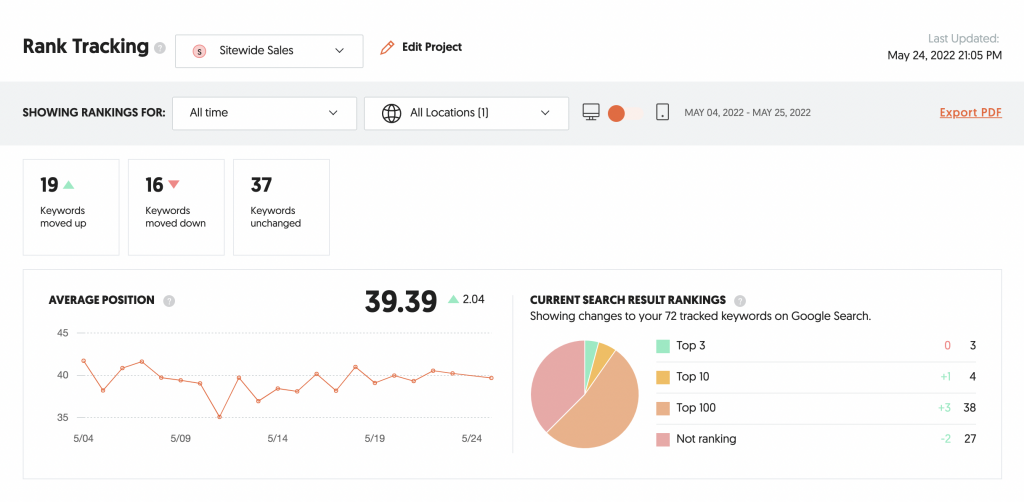 I decided to try WriteSonic after reading the product review and post on Using AI for Blogging by my friend Justin Ferriman. WriteSonic is an AI-powered content generation tool. They offer many types of content creation, including landing pages, blog post conclusions, social media ad writing, and more. I was drawn to Justin's recommendation of using this tool to help you write an article outline, so this is the feature we put to the test.
I prepaid for a year's subscription on the Basic plan—100 credits per month. Each type of copy has a different credit price. I'm using WriteSonic for article outlines (1 credit) and some article intros (1 credit).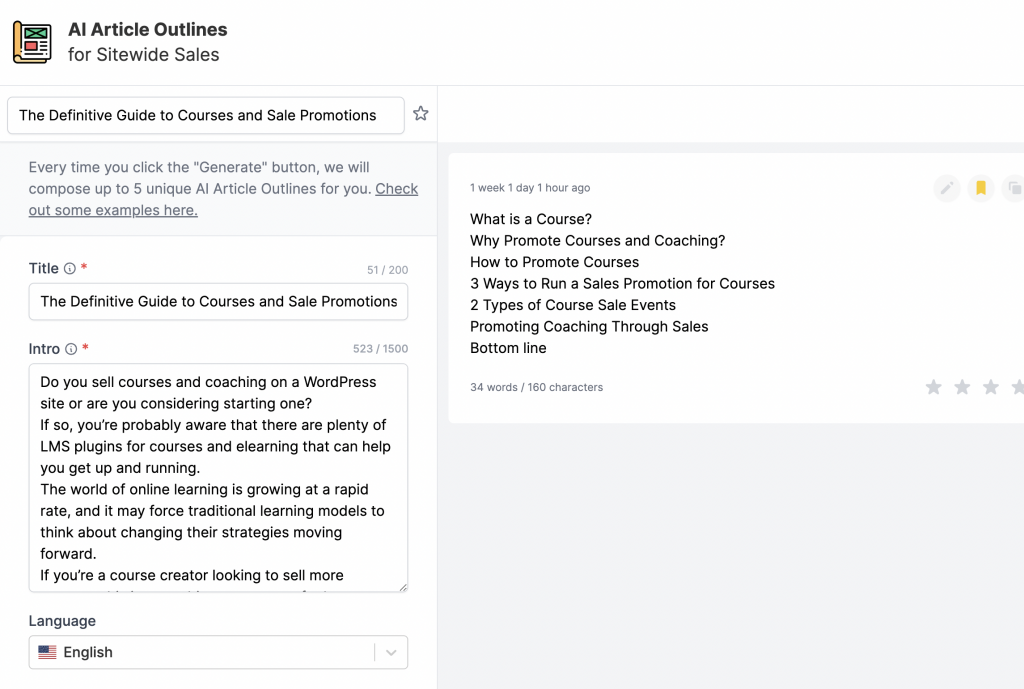 When I actually sit down to write these posts, I'll know whether the tool has sped up my writing process. Note to self: update this section of the article.
What comes next? The actual writing process.
When I initially considered my six weeks dedicated to SWS, I thought I'd write a blog post every day. Including weekends. So 42 total new content pieces.
But that seems completely unnecessary and unreasonable.
In an effort to preserve my sanity and make sure I'm producing good content, my goal is to write three posts from my spreadsheet per week. At the end of the sabbatical I should have contributed 18 new posts to the SWS blog.
I'm planning to tackle the 15 content pillars first. Here's how I'll do it:
Pick a topic.
Read the top Google results that we found for the topic's planned title.
Confirm I'm happy with the WriteSonic outline and intro paragraph.
Pick a focus keyword/keyphrase.
Write it.
Edit it.
Load it into WordPress.
Create a featured image.
Adjust the post slug (permalink).
Draft a good SEO title and meta description.
Publish.
The writing process we use with PMPro is very different from how I'm planning to tackle this project. At PMPro, we create some content internally, while some is created by our content agency. We also have a dedicated Content Manager who is not only an excellent writer but a great editor, too.
When we create content for the PMPro site, several different people play a role in how it is created, edited, proofread, reviewed, and reworked.
For me SWS, it's just me. I'm not leaning on the PMPro team for any help with this project. If the content strategy I put in place turns out to be useful and effective at growing our traffic and expertise, I know our team can fix it later.
My goal isn't to create a masterpiece—my goal is to create something useful.
I also plan to write one or two code snippet tutorials every week AND publish two videos.
While also doing some new development + bug squashes and social media. Tired yet?
Set the sabbatical countdown timer to 7 days.